Actualités du lycée
Détails
Beauty
I went on « Vinted » which is a website used to sell and buy clothes, shoes, jewels because I'm a student and I don't have a lot of money. When the website opened I tested it. I sold clothes because I didn't have a lot of money.
Drawbacks
The picture may not be realistic because we can't see the quality of the clothes. Consequently, we can be swindled by people who use this website to make dirty money with fake clothes. The last drawback is that we can't try the clothes on.
Advantages
For the advantages, it enables students and people to make money. It's cheaper than in shops. It's great for the environment because we recycle clothes. It's a website so you can buy clothes from all over the world if you have an internet connection
Opinion
« Vinted » is the greatest application to sell clothes between individuals, because it's cheaper. And it's faster than going shopping. To conclude, you can receive your order in a short time. Consequently, « Vinted » is the best thing I have ever tried.
             Manon, Océane, Cindy et Quitterie
Détails
Pascoal                              TF                  Monday, May 29th
Lousplaas
Taillandier
Faliero
                                           Easysitting
Last week, I tested a new concept of collaborative consumption: Easysitting. It consists in taking care of children and doing activities with them for free. Contrary to the classic babysitting, the concept offers many alternatives in order to make children happy. You can do it anywhere like in parks, at home, at sea or in attraction parks. Thanks to Easysitting, I took a child with me for a day and I brought him to an attraction park and he enjoyed that a lot.
Thanks to Easysitting : parents can leave their children when they need to work, or to travel. The concept offers a lot of different activities which are better than simply taking care of children which is boring and useless. It allows children to discover new landscapes and to be joyful. Parents don't have to worry about the price and their children because it's less expensive than a simple babysitting association and Easysitters are professionals. There is a website on which you can chat with other Easysitters from the region.

But there is one drawback which is very recurrent : the children's behaviour depends on the children themselves so they might become angry unlike others who can be happy thanks to these activities which are great.
Détails
MONTEIRO Elian
MARTELL Thomas
DEBREUCK Maya
CUISINIER Florian
                            Tâche finale d'anglais
Doggybag
I have tested Doggybag which is an organization which keeps the leftovers of restaurants. There is a table outside the restaurant on which there is food. It enables people who don't have money to eat. The food is better than in other organizations because it's cooked by a real chef. I used it when I was unemployed in Paris in 2012. The advantages are that the food is good and free. It enables to reduce waste. The drawbacks are that the food may be old and it might be difficult to find volunteers to do the service. It allows people to meet other people. I recommend this to homeless people. It's the best organization as it helps people who need food. To conclude, you should use this concept if you have difficulties to get food and if you are the owner of a restaurant you can give food to the organization. If you want, you can become a volunteer because everyone is able to realize these tasks.
Détails
EYCHENNE Loïs 
CASTAGNÉ Chloé
SEGRESTAA Sophie
CLEE Eloïse
                        Petsitting
My name is Betty Watson. I live in New York in a little apartment with my two dogs. Today, I want to share my experience of a new application named Petsitting. My dogs' names are Salvador and Donald. This summer, from the tenth of July to the twenty-second of July, I went to Bolivia with my boyfriend Jimmy. Obviously, I couldn't take my dogs with me even if I love them. My best-friend told me about a new app named Petsitting which consists in connecting people who need their pets taken care of. At the beginning, I was scared to leave my dogs to someone I don't know. However, it would have been difficult if I had taken Donald and Salvador with us, especially for Donald who is a little crazy and restless. On top of that, he has a disease so I gave him to a member of the app in order to be cool and relaxed during my holidays. The app guarantees that the members must be qualified people. One day before leaving, I met a lady named Allison. I had a really great time in Bolivia but when I came back I had a really bad surprise. I went to Allison's house and I found Donald sicker than when I left him. I think that they may not have given Donald his pills every day, I was very angry so I wanted to know what happened during my trip, if Allison did not take care of him, but nobody answered my calls so I don't recommend the app. I think the members are not qualified people contrary to what the app says.
Détails
Valentin, Samuel and François
Presentation of the app "Poo-Ding"
Today, May 22nd I have tested a new application, Poo-Ding which comes from England.
At the beginning, I didn't want to use this app but this afternoon when I was in town, I needed to go to the toilet. But there weren't public toilets in sight. So I opened my phone and then I opened the Poo-Ding app. Before using this app you have to create an account. So a mini map appears on your screen and shows you the other users' toilets one hundred meters around you. You choose the nearest toilets and send a request to use them (you have to say how long you will stay). The benefits are:
-It's cleaner than the public toilets
- it's more private
- it allows the owner of the toilets to win "Poo-Points" with which you can win gifts.
But as always there are drawbacks like the fact that you can't use the application without WiFi or 4G and the toilets are not always available. If you use this app the toilets must be cleaned every time. I recommend this app to you very very very much because it could save your life when you need to go poo.
Charlie from app-e-news
Détails
Lucie, Déborah, Coline, Lauriane
House of Service
When I was a student, I had to pay for that expensive rent, so I tested House of Service. Thanks to this website young and old people are able to chat together in order to live together.
Old people give a place to sleep and to eat to students in exchange for home help. Old people will not have to be alone. It's less expensive than an apartement. It allows young people to eat healthier food than in the canteen. You can't invite your friends in the house because it's not yours. The biggest drawback is : you don't have your own privacy. Personally, I have lived whith Michelle, a small grand-mother who is so cute !;) She is my second mummy as she is the best baker in the world. I slept in a beautiful room, I had my own bathroom and a student room. When I went back home after school the meal was ready !
In exchange for this I did many favors such as going to the market in the morning to buy breakfast, cleaning all the house, and walking in the park with her dogs which are called Tic and Tac. They are so cute. When I left Michelle and her dogs I was really disappointed and so was she. But it was a very good experience !
I will remember it all my life. You may meet an amazing person like Michelle.
XOXO, see you again
Détails
HLF
Hello everybody !
Today I'm going to speak about a new organization whose name is HLF. It means Help For Lodging. It consists in travelling all around the world in order to help people in need or homeless people build houses and schools, and to work with them so that they can get food or water.

I have tested this way of travelling from the second of July to the second of August. I went to a little village in Guatemala (it's useless to tell you the name, you mustn't know it). We were a group of twenty. We built a school, consequently children were able to learn how to read and how to write. We could also have also built houses but we didn't have enough time. We planted trees which enabled people to get food. We brought water to the population. We taught English for free. We were able to give them old clothes.
It allows you to travel even if you don't have a lot of money because you don't have to pay for lodging or food. You are more engaged in the practises than if you were staying in a hotel. It's the best way to feel useful and to meet people. Even if it's free you have to pay for the plane ticket. You may work hard but it's for a good thing.

I
recommend this organization to you because thanks to HLF the earth will be better.
Bye, XOXO
                               Manon, Flavie, Amandine and Lisa

P.S: We were eaten by mosquitoes over there so watch out.
Détails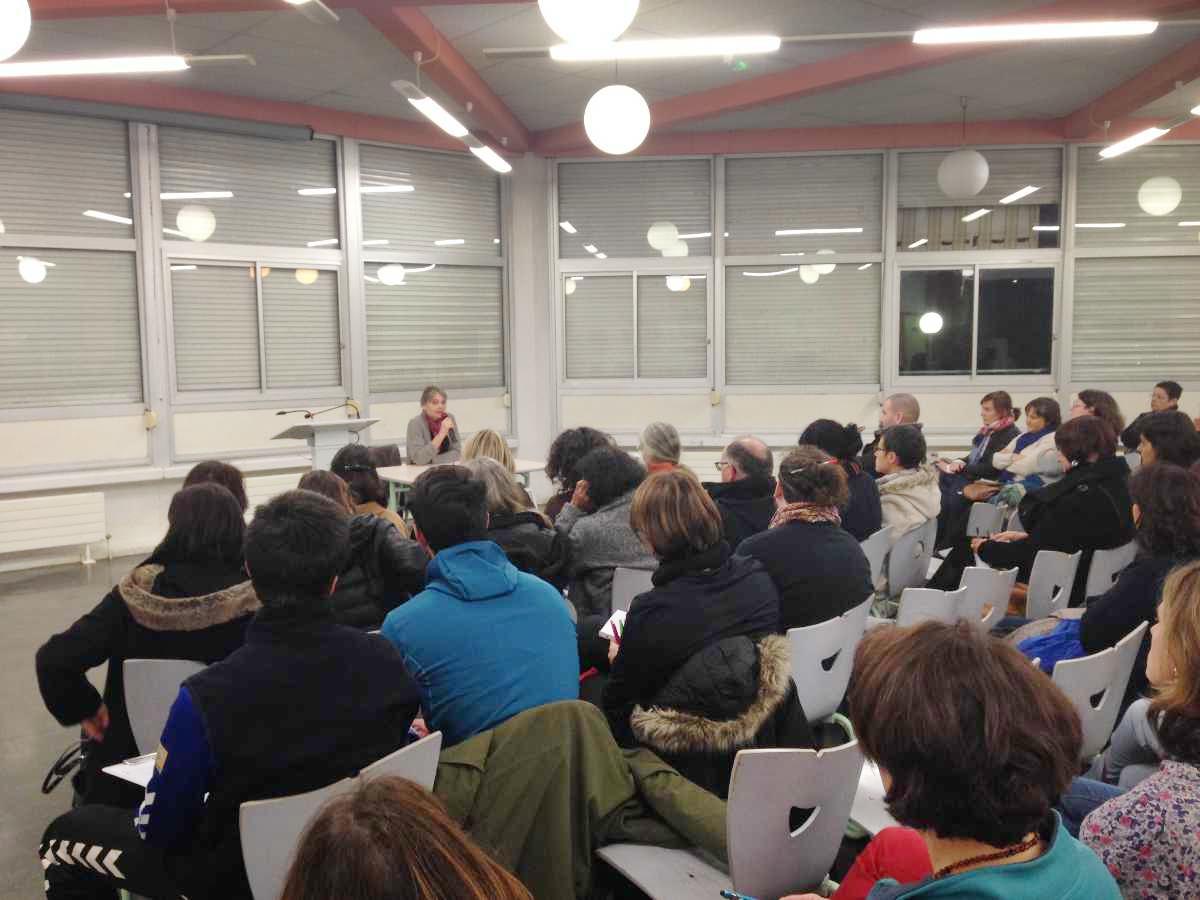 Le Dr Alice LETESSIER, pédopsychiatre, chef de pôle au centre hospitalier de Pau, responsable de "La Maison des adolescents" à Pau est intervenue le mardi 17 janvier sur la cité scolaire de Nay pour aborder avec les personnels et les parents les problèmes liés au passage de l'enfance à l'adolescence.
Devant 75 personnes, elle a surtout rappelé que l'adolescence n'était pas une "maladie" mais une transformation importante qui nécessitait que nous soyons tous vigilants aux évolutions de nos adolescents sur cette période. L'objectif est de ne pas rompre le lien sur cette période et de garder contact avec nos ados pour les accompagner au mieux.
Cette intervention a été réalisée dans le cadre du CESC (Comité d' Education à la Santé et à la Citoyenneté) de la cité scolaire. D'autres conférences sont prévues sur l'année scolaire. A suivre....